Sea Hunt TV Title



Shortly after the 9/11
attacks the FBI began
requesting dive records
from Florida Dive Shops
in a search for "Scuba
Terrorists"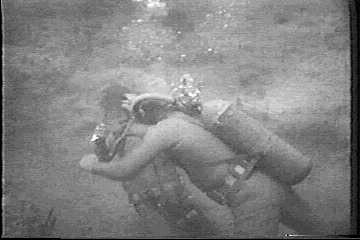 Terrorist Hose Cutter



Mike Nelson, Free Lance
Underwater Investigator,
freed Florida waters of
"Hose Cutting Terrorists"
fifty years ago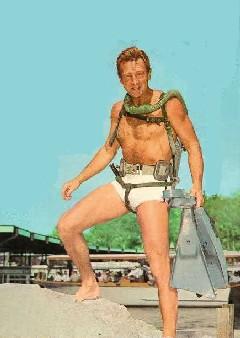 Mike Nelson from TV Guide
Fifty three (53) years ago Mike Nelson, Freelance Underwater Investigator, freed our coastal waters of terrorists.

In the 155 episodes of "Sea Hunt", Lloyd Bridges as Mike Nelson was under constant attack by "hose cutting terrorists". The terrorists usually hid behind rocks and attacked the unsuspecting Nelson while he went about his business of underwater investigating. Their favorite target was Mike's air hose which they often cut with a dive knife . Why Mike continued to dive every week in waters so infested, we'll never know. Some of the attacks took place underwater at Silver Springs in Ocala, Florida.

I studied carefully Mike's method of dealing with these hose cutters and am happy to pass them on to you should you encounter an "underwater hose cutting terrorist".

First, the attackers do not seem to understand the function of a double hose regulator, the type used in the sixties. There were two hoses; the right hose was the air supply hose the left was the exhaust hose. All attacks were on the exhaust side, the left hose. This still allowed the attacked to breathe, but the bubbles coming out of the exhaust side seemed to cause the attaked to panic and rush to the surface. Should a terrorist attack your double hose regulator, they will always go for the exhaust side... don't panic continue to breathe! Modern regulators use only one hose that is steel reinforced it would take a long time to saw through with a sharp knife. Use a modern regulator!

Second, these terrorists cannot function without a mask! Mike's best defense was to remove the attacker's mask. The rapid rush of water to the eyes caused severe panic and the terrorist fled to the surface. Remove the mask of any attacker!

As I said before, Mike Nelson eliminated most of the underwater terrorists in Florida waters 50 years ago. I only bring this up as the diving industry has been slow since the attacks on 9/11/01. I have personally checked the Springs and the Gulf in the 100 mile radius of Tampa and am pleased to report that there have been no sightings of "underwater terrorists". So fear not and go diving!
Bonus for Sea Hunt Fans download the Sea Hunt theme (David Rose 1958) at: http://www.scubatampa.com/sound/seahunt.wav
Read one of my favorite funny stories for new divers the 'Blub Story - a very deep experience' by David Berry of the Miami Herald.
With 3000 rivers, lakes, springs and two oceans, Florida has it all, world class terrorist free diving at American rates. Check out Florida.