Why the Skin Diver Course?
Not everyone who is interested in exploring the underwater world can or wants to scuba dive. Skin diving may be an option. Skin diving can be described as "breath hold diving". Using masks, snorkels, fins, and buoyancy-control devices (BCD's) skin divers both snorkel on the surface and regularly dive underwater. The PADI Skin Diver course is a simple, structured, training program. In the academic portion of the course, Skin Diver students learn about equipment, diving science, the environment, problem management, and safe skin diving practices. Knowledge development covers information on equipment, entering the water, checking buoyancy, surface swimming, snorkel clearing and performing surface dives. In the water training portion of the course, Skin Diver students learn and practice safe skin diving techniques.
The PADI Skin Diver program is an is an excellent pre-training experience for children who want to explore the possibilities but are too young to dive with scuba in the open water or before trying the PADI Bubblemaker program.

Successful completion of the PADI Skin Diver course results in PADI certification.
What do I need to start?
What will I do?
In the pool you'll master skills such as snorkel blast clearing, removing and replacing a weight belt, hand signals & swimming under water. You can then apply what you've learn on a supervised skin dive.
How long will it take?
Where can I go from here?
Open Water Diver is the next step in exploring the underwater world.
PADI Course Flow Chart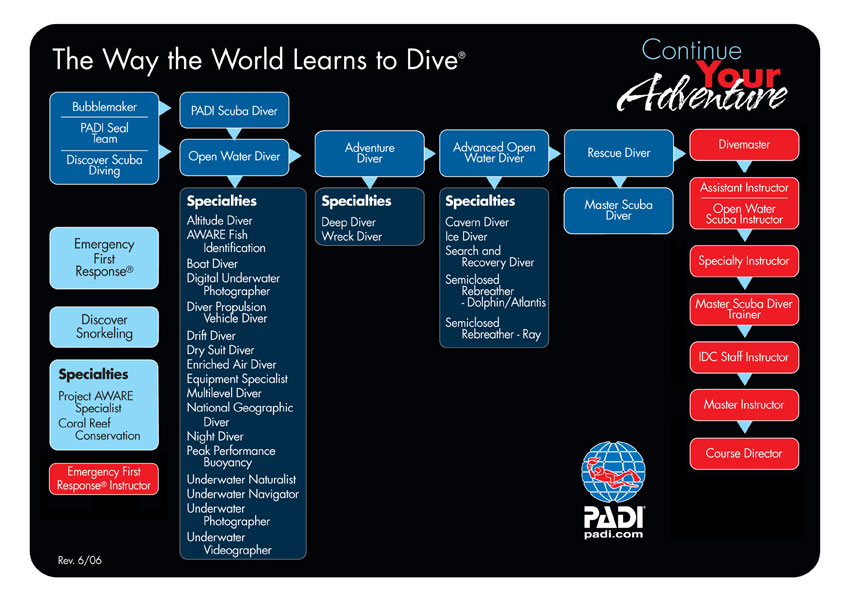 SIGN UP NOW!
To sign up for class, review the course schedules, choose the weekend/ weekdays you want (give yourself at least 10 days to study the academics) by reviewing the Dive and Course schedule/calendar and send an email to info@scubafla.com with your requests. We will send additional information and a booking form to you.